ABOUT TNNLU
TNNLU is located in Srirangam Taluk of the Tiruchirappalli Corporation, formerly known as Trichinopoly. This institution of learning was established by the Government of Tamil Nadu by an Act of State Legislature (Act No. 9 of 2012) to provide quality legal education. TNNLU is the brainchild of the former Hon'ble Chief Minister Dr.J.Jayalalithaa who laid its foundation stone on 13th February 2012. TNNLU's Vision is to impart quality legal education nurtured within a robust culture of interdisciplinary research and teaching in an equitable, respectful and supportive environment producing legal practitioners and scholars who will be committed to justice, social transformation and national development. Its mission is to achieve global recognition as an institution of eminence and excellence in all spheres of legal education, rooted in an interdisciplinary approach to the study of law, such that the graduates of TNNLU will be independent, critical thinkers and socially responsible human beings
ABOUT IALE
The Indian Association of Law and Economics Association (IALE) was formed at the International Conference on Law and Economics, 3-4 September, 2016 at IIT, Kanpur. In the said conference, IALE was conceptualized by the Consortium of Indian Institute of Technology Kanpur, Gujarat National Law University, Gandhinagar and Indian Institute of Management, Ahmadabad. The Association works on socio-economic-legal and technological challenges relevant at the National and International levels through research initiatives and policy research through conferences, seminars and workshops.
7th INTERNATIONAL CONFERENCE ON LAW & ECONOMICS
CALL FOR PAPERS
The Seventh International Conference on Law and Economics, jointly organized by The Tamil Nadu National Law University, Tiruchirappalli & Indian Association of Law and Economics will be held on November 25 – 28, 2021, virtually.
The ICLE 2021 invites contributions in all areas of Law and Economics in the form of: (a) full length scholarly papers documenting original and substantial research work (b) The original conceptual ideas of exceptional academic quality in form of Essay.
The area of interest are broadly sketch out as follows: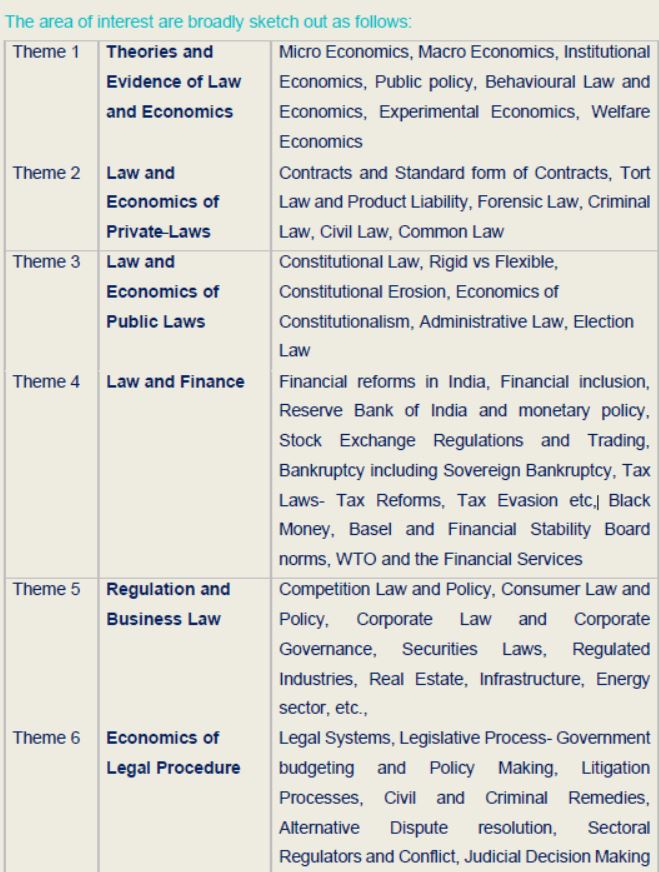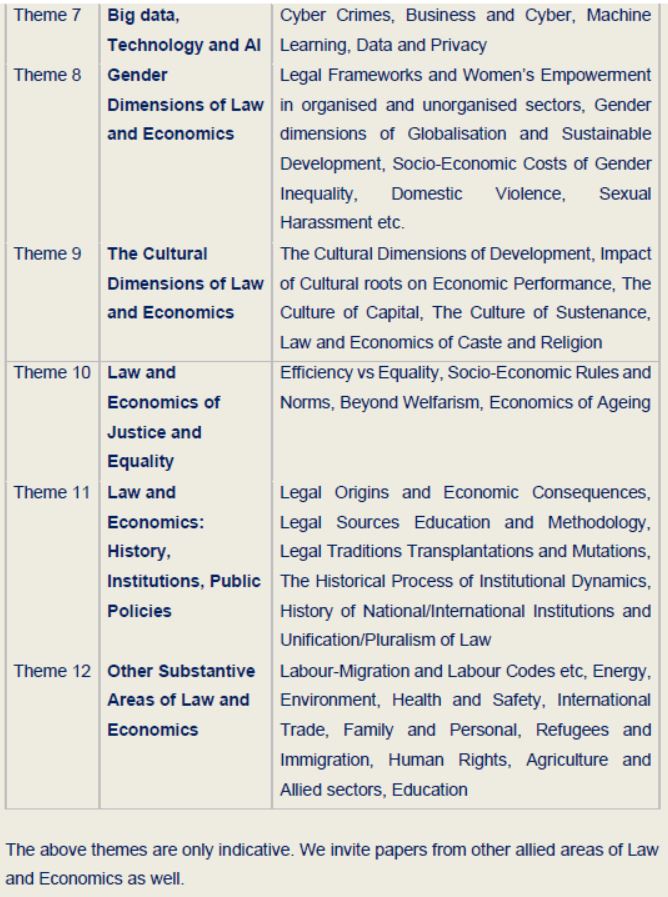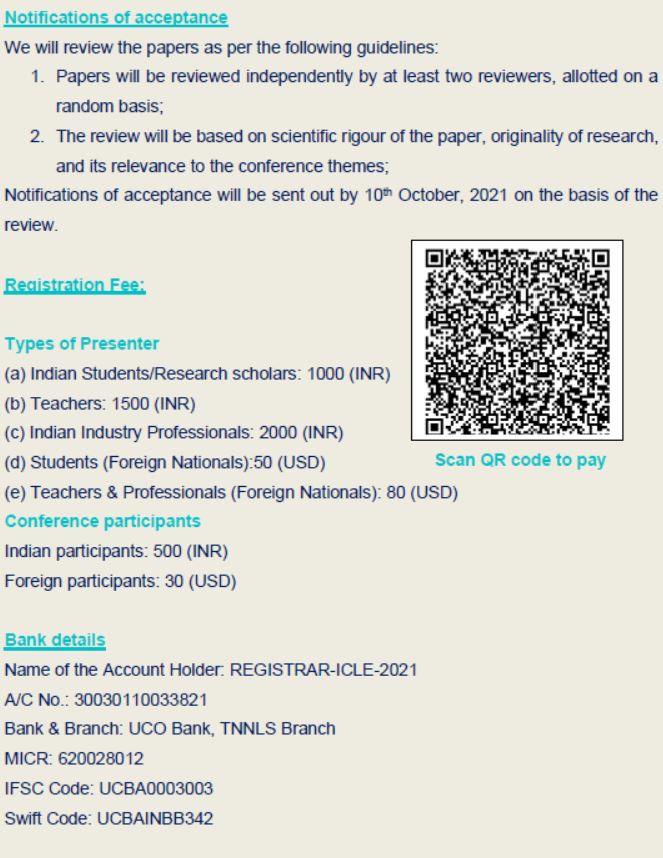 Best Paper Award:
The details of best paper awards are as follows:
(a) Best Paper Rs. 10,000
(b) 2nd Best Rs. 5,000
(c) 3rd Best. Rs. 2,500
Important Dates:
Full papers submission: 20th August, 2021
Notifications of acceptance: 10th October, 2021
Authors' registration: 18th October, 2021
Conference Dates: 25th -28th November, 2021
GUIDELINES FOR RESEARCH PAPERS
a. Length of full paper: Not more than 6,000 words (excluding footnotes and title)
b. Font: Times New Roman
c. Font Size: 12 (Line spacing 1.5 and alignment "justify")
d. Foot notes: must be in Font "Times New Roman", font size 10, line spacing. All submissions must follow the "The Bluebook: A Uniform System of Citation (20th Edition)"
e. Abstracts shall not exceed 500 words.
f. Policy papers are eligible if they deal with very important and timely issues. Submissions must be original and not yet published.
g. You can submit no more than 2 papers. No person may present more than once during the conference. If you have two papers accepted, you may present one, but if the paper is co-authored, your co-author could present the second paper.
h. Authors of accepted papers will have to confirm their attendance by registering to the conference. Papers by authors who are not able to register will be excluded from the program. We do this to minimize the number of empty slots at the conference.

SUBMISSIONS AND CONTACT
Kindly submit your papers on following mail ID: Kindly submit your full papers on following mail ID by mentioning the theme number:
icleorganizingcommittee@tnnlu.ac.in
For any further information/clarification, please write to: Dr.K.Thomas Felix, CONVENER,
Assistant Professor (Economics),
Tamil Nadu National Law University, Tiruchirappalli,
E-mail: thomasfelix@tnnlu.ac.in
CLICK HERE FOR MORE INFORMATION