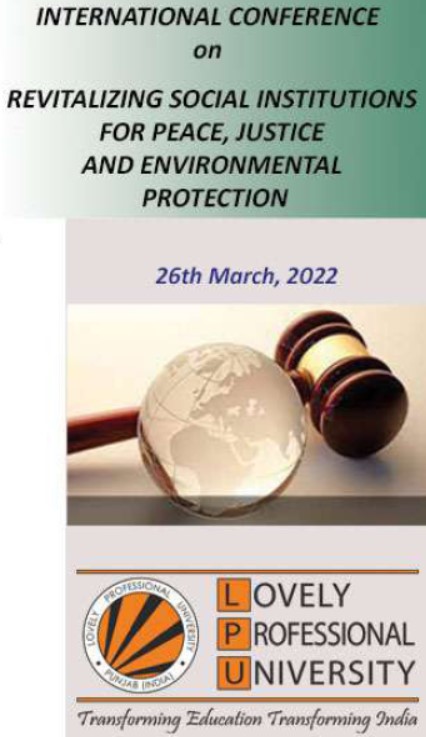 About the Conference
Persecution, injustice and abuse continue to plague the modern civilization, Building effective accountable, and inclusive institutions at all levels is imperative to promote peaceful, just and and all levels is imperative to promote peaceful, just and inclusive societies for sustainable development.
Every democratic society also need compassion, a solid moral compass and commitment to ensure peace everywhere. School of law, Lovely Professional University, Punjab, India is organizing a One Day International Virtual Conference on Revitalizing social institutions for peace and environmental protection on 26th March, 2022.
The conference aims to bring together leading academicians, students, research scholars, advocates, judges, NGOs, Journalists and social activists to exchange ideas and share their experience and their research results on a premier interdisciplinary platform.
The learning objectives of the conference are:
to identify the legal issues and gaps in legal mandate
to analyze the implementation
to explore contemporary policy narratives and practices
to evaluate the role of voluntary organizations and social activists.
Main themes of the conference
Evaluating the role of international and national institutions in insuring peace, justice and inclusion
Governance, transparency and justice
Evaluation of policies at national and international level to create transparency, accountability and engagement during times of crisis
Transforming governance through inclusive processes and the whole society
The gender dimension of problem: Lessons learned and implications
Global warming and natural disaster
Environmental injustice and climate change
Identifying Socio-economic inclusion
Impact of climate change on vulnerable sections of society
Water high Risk factors
Climate Change and Developing World
Accelerating the implementation of sustainable development goals
Sub Themes
International Relations, Peace and Justice

Public access to information on fundamental freedom
Religion and Peace
Culture and Society
Education and Peace
Right to Self Determination
Sovereignty and Compulsive Methods of Dispute Settlement
International territorial conflicts
International Relations
Peace negotiation and mediation
Geo-Politics
Invasion and Use Of Force
War Crimes
Refugees and human right crisis
Covert operations: Unprincipled/ Unjustified Killings
Custodial Killings
Global humanitarian crisis
Media, Conflicts and human rights
Equal access to justice
Transparency and and accountability of the institutions
Any other issue related to international peace and Justice

Social Justice

Poverty eradication
Food and Security
Child morality
Local Institutions and inclusive Socities
Gender Equality
Gender Discrimination and inequality in family
Socio-legal inclusion of LGBT rights: issues and challenges
Caste and religious discrimination in public institutions
Any other issue related to social justice

Environmental Justice

Environmental Peace Building
Water allocation rights
Water Disputes
Global environmental governance and international agreements
Ecocide
Tribal Justice
Local Ecosystem
Disaster management
Water Pollution
Green Energy
Any other issue related to the Environmental Justice

Important Dates
Abstract Submission: 20th March 2022
Abstract Acceptance: 22nd March 2022
Full Paper Submission: 25th March 2022
Last date for Registration: 25th March 2022
Conference Date and Time: 26th March 2022 (10:00 A.M.)
Contact Information
Ms. Ankit Paul Kaur (Assistant Professor) +91 86990 22902
EMAIL: [email protected]