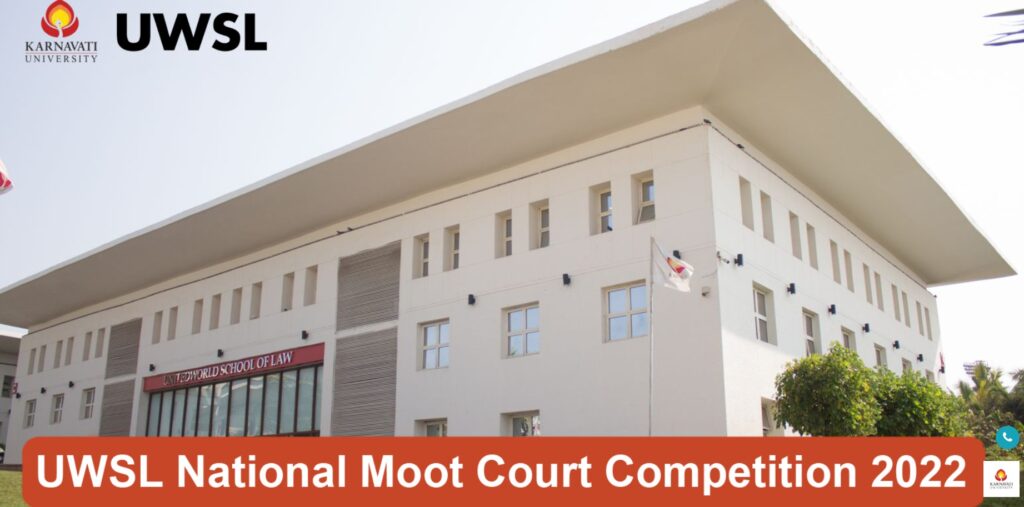 About Unitedworld School of Law, Karnavati University
Unitedworld School of Law is a constituent school of Karnavati University, Gandhinagar,
Gujarat. The school is duly recognized by the Bar Council of India and is imparting high quality
legal education the aim of percolating constitutional values in the students of Law, to
constantly work for the betterment of the nation through legal education and to effectively
contribute and strengthen justice delivery system, making law, implementing law and interpreting
law in India. UWSL offers interdisciplinary law programs namely, BB.A. LL.B. (Hons.) with
various specializations like IPR, Business Law, Criminal Law, International Law, LL.M. as well
as doctoral programs. UWSL in a short span of its existence has adopted diverse strategiesto
create a lively pedagogic environment.
About Karnavati University National Moot Court Competition
Unitedworld School of Law, Karnavati University has a vibrant and active mooting
culture, with a student population of roughly 500 students. The Karnavati University Moot Court
Society (KUMCS) is a student run committee under the guidance of faculty Advisors, which
seeks to channelize the students on the mooting path. KUMCS aims at providing opportunities to
hone Research, Argumentation and Legal Drafting Skills and other essential prowess to
mould an individual into an adept mooter. In order to achieve this objective, the KUMCS has
organized various events like Memo Pundits for enhancing drafting skills, Intra Moot
competitions to nurture drafting and argumentation skills, National ClientCounseling
Competition etc.
CLICK HERE FOR MOOT PROPOSITION
Important Dates
The UWSL National Moot Court Competition, 2022, shall be held during 28th – 30th April,
2022.
VENUE
Unitedworld School of Law, Karnavati University Uvarsad-Adalaj Road, Knowledge
Village,Gandhinagar,Gujarat,382422
Language
The official language for the Moot Court Competition shall be English only.
Eligibility
The Competition shall be open for "bona fide" students who are pursuing an integrated 5 year LL.B. Programme or 3 year LL.B Programme from an institute/university in India. Such institution must be recognized by the Bar Council of India.
More than one team can register from a particular law school/ College/ Institution/University to participate in the Competition.
Registration
The registration of team is considered to be complete, once the registration fee is paid and the registration form is e- mailed with all necessary details.
Registration fees one paid will not be refunded.
Every team which has registered under the Rules shall be allotted a unique code. Once the unique code has been allotted, every team must use the team code for any communication with the Organizers during the course of the Competition.
The participating teams are supposed to refer the REGISTRATION FORM for the purpose of registering their team.
Registration Fees
Registration Fee is 3,000/- (Rupees Three Thousands Only).

Registration Fee is a NON-REFUNDABLE, in case of non-participation or otherwise as may
deem fit.

Mode of Payment

Online Payment: The Online Payment of Participation Fees can be done by making payment on
the below Account:

Bank Details for Unitedworld School of Law:

Account Name : Unitedworld School of Law A Unit of KMET

PAN No. : AAATK7408C

Bank Name : YES BankLtd

Branch : Bhuyangdev, Ahmedabad-380061

Saving Account No. : 070988700000175

IFSC Code : YESB0000709
CLICK HERE FOR RULES AND STRUCTURE OF THE COMPETITION
Awards
Winning Team: Rs. 40,000/-
Runner up Team: Rs. 30,000/-
2nd Runner up Team: Rs. 20,000/-
Best Memorial: Rs. 10,000/-
2nd Best Memorial: Rs. 5,000/-
Best Speaker: Rs. 10,000/-
2nd Best Speaker: Rs. 5,000/-
Certificates for participation will be given to all the participants.
Separate Certificates will be provided to the Quarter-Finalists, Semi-Finalists, Runners-up and Winners.
All Certificates and awards will be presented to the participants only at the Valedictory Ceremony on the evening of 30th April, 2022. The participants are advised to finalize their travel plan accordingly.
The certificates will not be provided to any participant who is not present at the Valedictory Ceremony and the same will not be sent by post/courier to any participant under any circumstances whatsoever
Click here to download Registration Form
Click here to view the Brochure
Contact Information
Student Committee:
Convener – Ms. Palak Mehta: +91-9586973718
Co-Convener – Mr. Manthan Sharma: +91-8562846724
Moot Registration & Procedural Compliance Committee Coordinator – Mr. Varun Modasia: +91 8140300444
Hospitality Committee Coordinator – Ms. Devanshi Jain: +91 6354139797 |, Mr. Ayush Bhandari: +919173530918
For Further Queries Email us at [email protected]