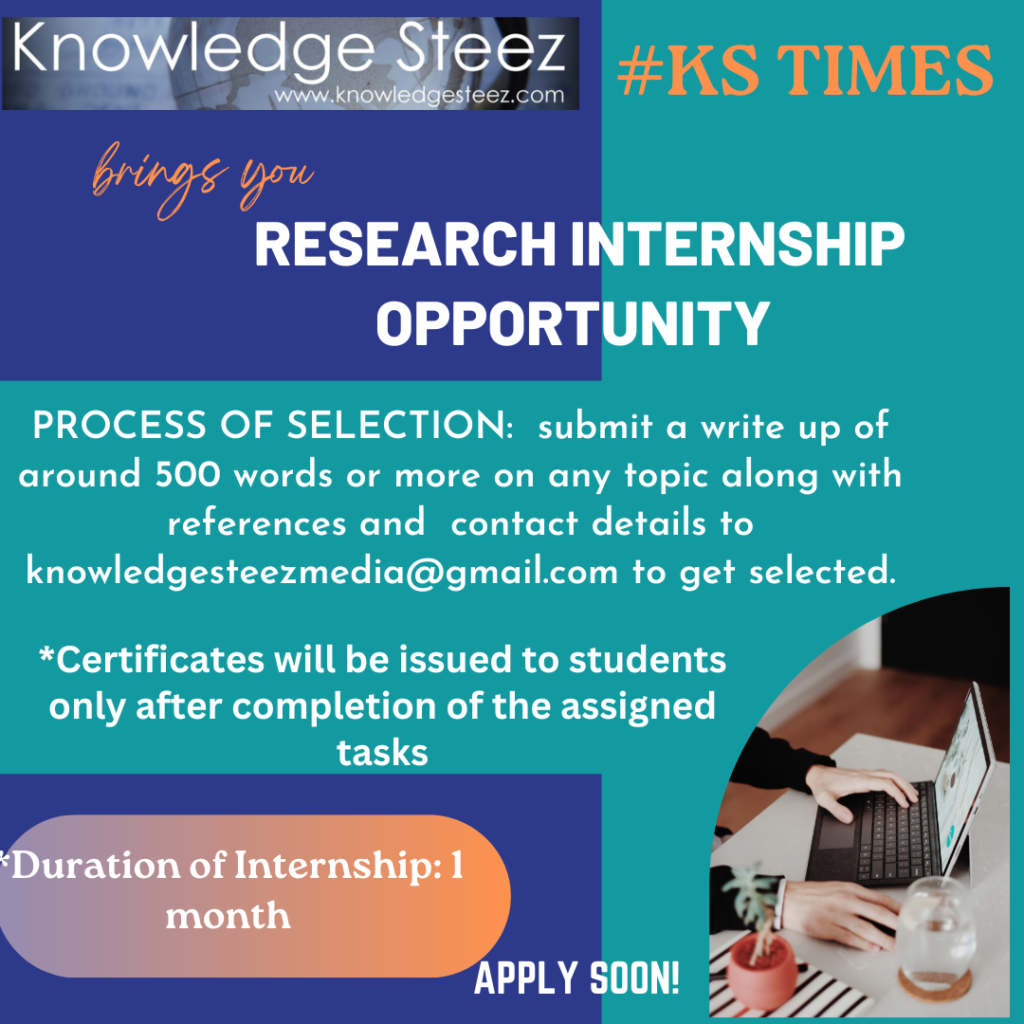 Knowledge Steez is pleased to announce the opening of applications for our Research Internship Program. This internship opportunity offers a unique platform for students and researchers and to enhance their skills in writing research articles, books, research mentorship and knowledge dissemination. We invite enthusiastic students and individuals with a passion for learning research and writing to join our team and contribute to our mission of promoting knowledge sharing and academic excellence.
Internship Duration: 1 month (flexible start date)
Internship Benefits:
A) Article and Blog Writing: As an intern, you will have the opportunity to showcase your writing skills by contributing to our platform and learn data collection for your own self. You will write engaging and informative blog articles on various topics related to law, social sciences, management, and other fields of study.
B) Research Mentorship: Our experienced research mentors will guide you throughout the internship period. They will provide valuable insights and assist you in developing your research and writing abilities. You will receive feedback to improve your work and gain knowledge of the research process.
C) Knowledge Dissemination: Your work will be published on knowledgesteez.com and reaching a wide audience of students, researchers, and professionals. This will give you a chance to make a meaningful impact and share your knowledge with the academic community.
D) Certificate and Recommendation: Upon successful completion of the internship, you will receive a certificate of internship and a recommendation letter highlighting your achievements and contributions.
Requirements:
Undergraduate, graduate students, post graduate students and researchers are eligible to apply.
The ability to convey complex ideas in a clear and concise manner.
Familiarity with academic writing and referencing styles.
Proficiency in English language.
Access to a computer and the internet.
How to Apply:
To apply for the Research Internship, please submit the following documents via email to [email protected]
Updated resume or curriculum vitae (CV).
A brief cover letter stating your interest in the internship and explaining how you meet the requirements.
A writing sample (e.g., an academic paper, blog post, or article).
Application Deadline: The deadline for applications is 30th June 2023. Shortlisted candidates will be notified via email for further selection rounds.
For more information, please visit our website at www.knowledgesteez.com or contact us at [email protected]
We look forward to receiving your applications!
Regards,
Knowledge Steez