AUGUST 19-20, 2023
About GLS University
GLS University has been established with the objective of providing an ideal and creative learning environment and continuing the tradition of excellence in education of the sponsoring body of the University, viz., Gujarat Law Society (GLS).
About Faculty of Law
About GLS University Faculty of Law (FOL), constituent department of GLS University, is a premier destination for students interested in establishing a virtuous career in Law and aiming to become torch bearers of Justice. Faculty of Law has emerged as the most preferred destination for legal education offering B.A.LL.B, BB.A.LL.B (H), 3years LL.B and LL.M.
About IP Law Clinic
This clinic was initiated with the aim to aid innovative and advance academic research in the field of Intellectual Property Laws for the legal and non-legal fraternity. Further, conducting various training and extension activities for creating more awareness in the field of IP laws constituted the main objectives. Today Intellectual Property has gained relevance from a small discovery to a great innovation for mankind. In the current age, IPR finds its ambit almost everywhere.
The IP Fest is divided into two segments:
1. Expert Lecture
2. IP Activities (i) IP Detectives (ii) IP Innovation & Creation (iii) IP Debate (War of Words) The Lecture of expert eminent luminaries of IP sector is open for all Intellectual property enthusiasts, Legal fraternity, Law students and Innovation aspirants. The IP Activities are open for the students of all disciple across the Country. Note: Registration is required to attend the Expert Lecture as well as participate in the IP Activities.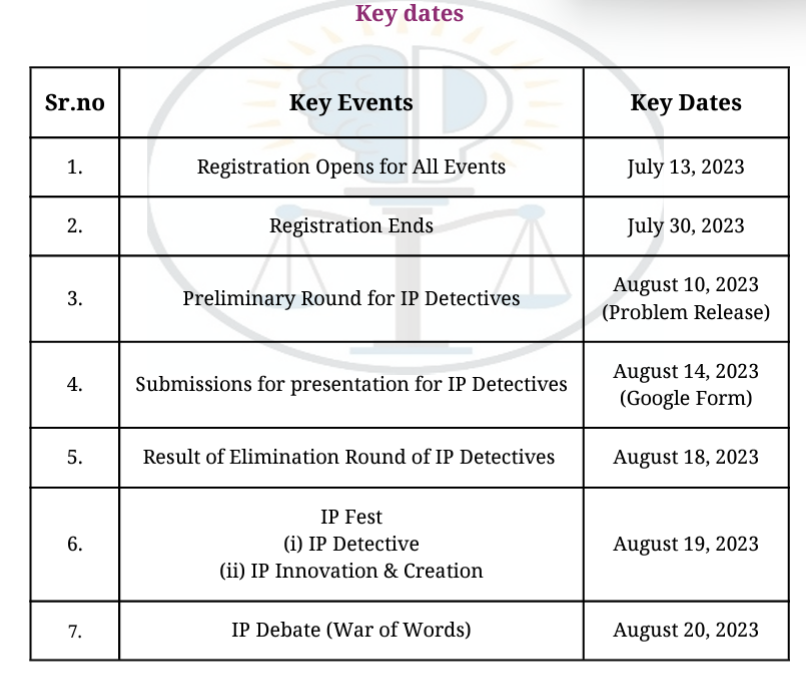 To apply, click here
For more details, refer here