DATE:26.06.2021- 18.07.2021
PLATFORM: ZOOM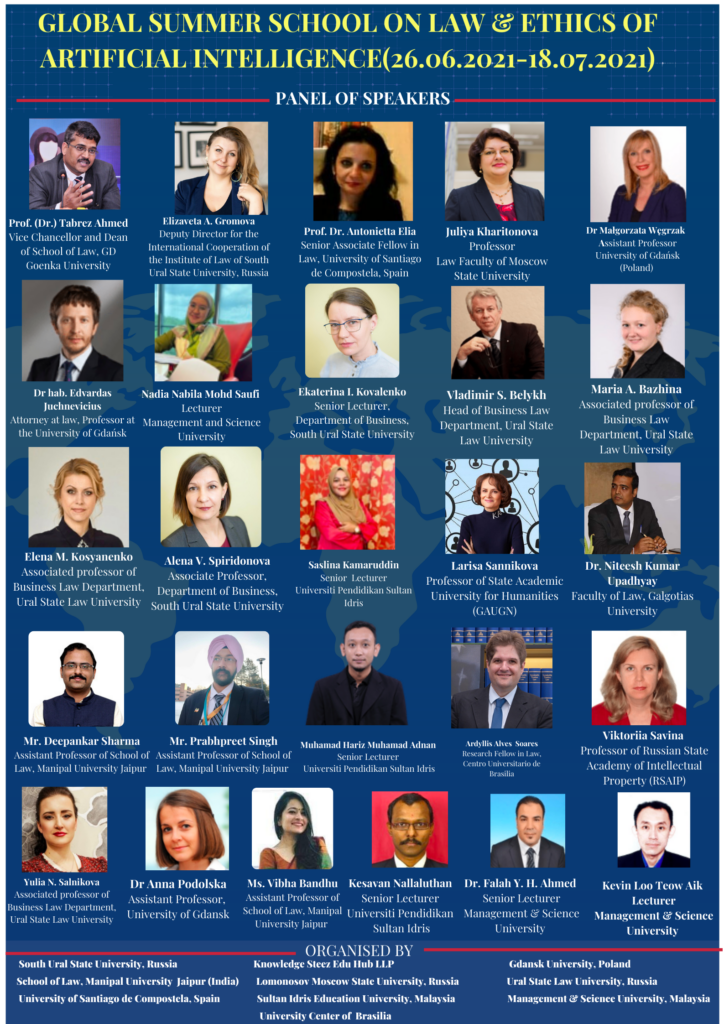 SUMMER SCHOOL ORGANISED BY:
South Ural State University, Russia
Knowledge Steez Edu Hub LLP
Gdansk University, Poland
School of Law, Manipal University Jaipur (India)
Lomonosov Moscow State University, Russia
Ural State Law University, Russia
University of Santiago de Compostela, Spain
Management & Science University, Malaysia
Sultan Idris Education University, Malaysia
University Center of Brasilia
About the Summer School
Invention of big data, machine learning and artificial intelligence system has opened the Pandora box of opportunities and challenges to the world. Every significant technological breakthrough has the potential to either advance or harm the society. The technology measurement and analysis capacities of Artificial Intelligence can very well help in resolving some of the biggest transportation, humanitarian assistance and public health problems, including supporting significant changes in clinical diagnosis and treatment, integrating transport and communal growth, and exacerbating the dangers of climate change. The first challenges that we face with artificial intelligence in any sector is its sophisticated technological development and comparitively slower development of legal regime in comparison to artificial technology.
The Summer School is being conducted by eight universities/ organisations from across the globe and the sessions listed on the next page on various aspects of Artificial Intelligence shall be taken by experts of the field. The concept of Artificial Intelligence has gained attention of the scholars in the past and it is crucial to understand the legal aspect of Artificial Intelligence. The Summer School will provide an opportunity to all the participants to understand various aspects of Artificial Intelligence and discuss their suggestions and queries with the experts of the field. It will also act as a platform for scholars, academicians, professionals and students from across the globe to come together and discuss the challenges posed by Artificial Intelligence and the probable solutions according to them. The participants will also gain insight of the concept from the perspective of various jurisdictions.
SESSIONS
Regulatory sandboxes for creating AI-based technologies
AI Roles in Detecting Online Hate Speech
Regulating Privacy and Data Protection in AI Enabled Services in Malaysia
AI , IHL and Human Rights
AI & IPR
AI and Antidiscrimination Law
AI in Transportation Law: Legal Problems
Ethical issues of AI and Law technology and its applications
AI and Its Interplay With Data Privacy, Data Protection & Allied Existing Regime
AI after the pandemic – trends and challenges.
AI in the consumption platforms
IMPORTANT DATES
Last Date to register: 10.06.2021
Date of Summer School: 26.06.2021-18.07.2021
Confirmation of the registration shall be send in 3-4 working days after the completion of the registration procedure.
REGISTRATION
12 Seats remaining.
CLICK HERE to fill the registration form.
The selected applicants will receive an email from the organising team and no communication will be sent for the applications rejected.
Submit the registration form by 10.06.2021.
it is mandatory for the participants to attend more than 80% sessions and to keep their video camera turned on for the sessions.