About the Colloquium
About the Organisers Target Group Colloquium Highlights Jointly organized by the Global Academy of Law-Tech Education and Research(GALTER), Jusfocus Research Institute (JRI) in The Netherlands with knowledge partners, The Indian Institute of Legal Education and Research (TIILER) and Gujarat National Law University (GNLU), and K.L.E Technology university. The International Ph.D Colloquium provides an exceptional opportunity for Ph.D scholars to connect, share, and learn from one another. By joining this global platform, scholars will be able to strengthen their research projects, expand their academic networks, and gain valuable insights into various research methodologies. We look forward to welcoming you to this intellectually stimulating and collaborative
About the Organisers
GALTER is a Research Oriented Global Educational academy focusing on Law and Technology. GNLU, is a leading National Law University in India. JRI is a research and training institute focusing on improving legal research experience of scholars in India and The Netherlands. K.L.E Society Law School is one of the leading law institute in India TIILER is a research institute and has played distinctive role in motivating and facilitating the establishment of NLU Jodhpur.
Themes
The colloquium is open to any discipline of Law and Social Sciences and also related to Cyber Law, Technology Law, Human Rights Law, Environmental Law, Intellectual property rights etc.
Maximum Participants:
Scholars are adviced to register at the earliest due to availability of limited seat
Call for Paper
Scholars are cordially invited to submit their research proposals, outlining their research area for presentation at the International PhD Colloquium. The proposal should include essential components such as research background, research problem, research design (including research methodology), hypothesis, research question, and implementation plan. Scholars have the freedom to choose whether or not to share their results in the proposal.
Important Dates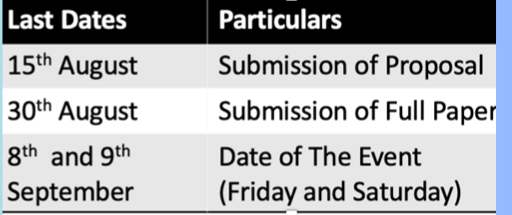 For more details, refer here