About Maharashtra National Law University, Nagpur
Maharashtra National Law University, Nagpur was established by the Government of Maharashtra
by way of enactment known as Maharashtra National Law University Act (Maharashtra Act No. VI
of 2014). The University is the nineteenth National Law University in India. The University is
pursuing excellence in legal and justice education under the visionary mentorship of the
Chancellor, Hon'ble Shri Justice Bhushan R. Gavai, Judge, Supreme Court of India and dynamic
leadership of Prof. (Dr.) Vijender Kumar, Vice-Chancellor of the University.
About Rajiv Gandhi National University of Law, Punjab
Rajiv Gandhi National University of Law, Punjab (RGNUL) has been established by the State
Legislature of Punjab by passing the Rajiv Gandhi National University of Law Punjab Act, 2006
(Punjab Act No. 12 of 2006).The University acquired approval of the Bar Council of India (BCI) in
August 2006. The University got registered with the University Grants Commission (UGC), New
Delhi under Section 2(f) of the University Grants Commission Act, 1956 and also got recognition
under Section 12-B of the UGC Act.
About the courses
These courses shall be offered in academic Year 2023-24 in "Distance Education Mode" in
association with Rajiv Gandhi National University of Law, Punjab. These Courses will be
conducted in a blended learning format with online and in-person Classes which will be notified
from time to time. The PG Diploma courses will be spread over two semesters and there will be
contact classes in every semester on weekend classes i.e on Saturday and Sunday. The details
course outlines of respective courses and Reading Materials will be mailed to the enrolled
candidates only. The University invites online applications for admission to the following P. G.
Diploma Courses through Distance learning mode for the Academic Year 2023-24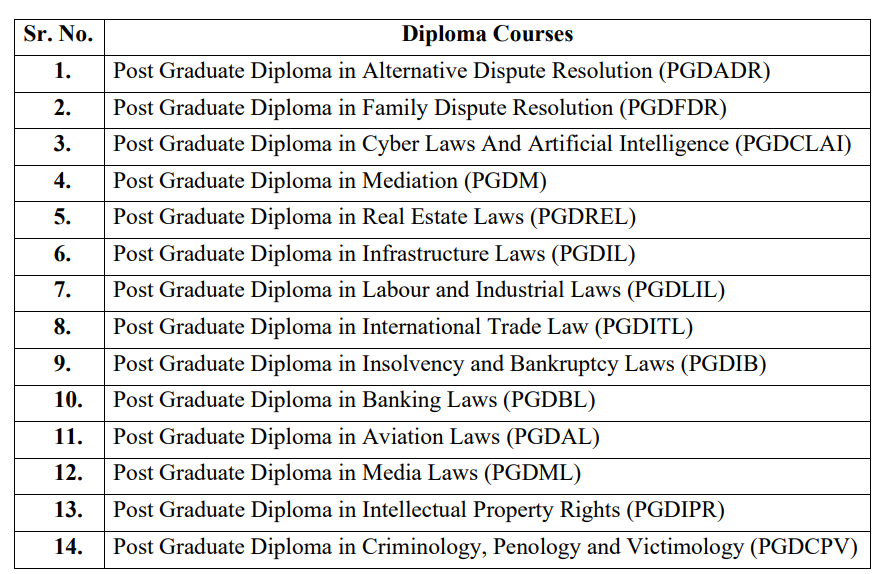 ELIGIBILITY
The eligibility for admission to Diploma Courses shall be any graduate with not less than 50%
marks (45% in case of reserved categories) from a recognised University. Students undertaking
five-year integrated Degree Courses shall be eligible for admission (only Fourth and Fifth Year
students). There is no age limit. Professionals and Employees are also eligible for the admission.
Interested candidates have to submit the dulyfilled online application along with other enclosures
and fee
Important Dates
Date of Advertisement August 30, 2023.
Last Date to submit application through online September 30, 2023.
Commencement of session October 14, 2023 (Tentative).
Mode of Applying
➢ The interested candidates are required to submit the online application through
the link provided.
➢ Candidates are required to upload documents/enclosures and pay the fee. No
other mode of application shall be accepted.
➢ Candidates can apply by clicking on this link at https://ded.nlunagpur.ac.in
For more details, refer here