3rd CRISIS CONTROL INTERNATIONAL COMPETITION,2024! organised by VVM'S GOVIND RAMNATH KARE COLLEGE OF LAW, GOA- INDIA!
A UNIQUE DISCOURSE-COMPETITION ON VVM'S GOVIND RAMNATH KARE COLLEGE OF LAW, GOA- INDIA JANUARY 24, 2024 JANUARY 25, 2024 on Aviation Law
About the competition
After two successful editions of CCIC ,a unique initiative in realm of international law, we are back with the 3rd edition of CCIC. This year the participants will get the opportunity to acquire knowledge of Aviation Law and apply the same to a mock crisis situation.. Participants are expected to organize their teams in order to effectively deal with the issue at hand, establish priorities, and make use of their skills in a limited time frame with a view to address the challenges placed before them.
About the Institution
Vidya Vikas Mandal's Govind Ramnath Kare College of Law, Goa-India is the only Centre for Legal Studies in South Goa, affiliated to Goa University, recognized by the University Grants Commission (UGC) and the Bar Council of India for imparting professional education in law since 1979 offers under-graduate, post-graduate & doctoral studies in law. The institution has been re-accredited by NAAC with a B++ Grade. By entering into MoUs with several international institutions, it has got a global presence.
IMPORTANT DATES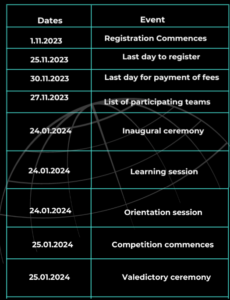 All communications with the participants shall be via e-mail only. For queries contact [email protected]
For more details, refer here